3 places in Sweden that will make your heart soar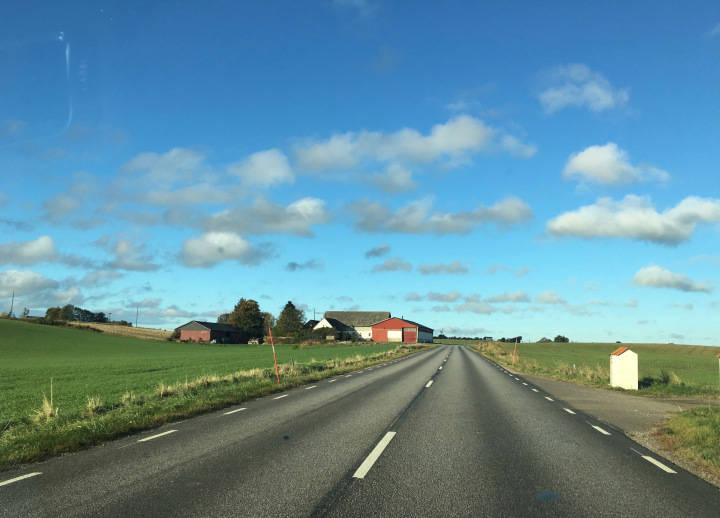 Full of great, local experiences
Sweden is one of my favorite destinations. The southernmost region, Skane, where pastoral and woodsy beauty mixes with a stunning coastline, is a magical place within a very modern country.
On a solo road trip through Skane, I uncovered three unforgettable places, each deserving of its own narrative.
The following is a summary of that trip which, at every turn, made my heart soar. The common thread is the laid-back warmth of the Swedish culture which both recognises and celebrates the natural beauty and bounty found in this corner of the world. Links to the previously published posts are noted below.
1. Ystad: Nordic noir gives way to Baltic beauty
I'm a sucker for the Nordic Noir crime genre – The Bridge, Kurt Wallander mysteries, and the rest – so I had to check out Ystad, where the fictional Kurt held court in Henning Mankell's famous novels and in the subsequent BBC TV series.
The actual bridge – the Østend Bridge – is an engineering feat of the early and hopeful days of European unity. It both literally and symbolically connects Scandinavia and Europe, creating a seamless drive from Copenhagen's airport to Sweden.
It's majestic in the fading afternoon light and do I just imagine a bit of foreboding?
Onward to the venerable Ystad Saltsjöbad (YSB), a nearly century-old spa situated exquisitely along the shoreline offering various spa packages and ad-hoc services. The seaside location is a strong plus and in my mind, nothing is more restorative.
After delicious dinner with great wine and attentive service (who could ask for more?) the sun boomed over the Baltic the following morning. Time for a brisk beach walk.
I joined some local ladies in the outdoor heated pool, with the sea in the distance and the wind whipping around. I didn't need to know Swedish to understand the gist of warm exchanges among friends, a bit of catch-up, and a sliver of gossip: universal women's language.
YSB is a perfect family resort; I envied the locals at this multigenerational haven with its cozy family pictures and activities across the age spectrum. Obviously, YSB is a summer magnet, although I found it the perfect retreat for the autumn. I suspect that in the winter, combining it with the Ystad town attractions, it is the perfect weekend getaway.
Original post here.
2. A spa for the soul: Glamping in the woods at Nyrups Naturhotell
I was skeptical of the term 'glamping'. It struck me as an impossible, oxymoronic mash-up of camping and glamourous, which it sort of is. But the opportunity to try something so 'out there' was catnip: in the midst of nature, settled in with luxuries of fine bed linen (not to mention an actual bed), assuaged my city-girl fears.
Driving to just outside the town of Höör I was all in, prepared for two days off the grid. I was ready to cook food over a campfire or wood stove, without the benefit of running water or electricity, sleeping in a very well appointed yurt. I'd have internet service as long as my batteries held out, but this was no place for a news junkie.
An urbanite, I didn't know what 'dark of night' actually meant but I found that the womb-like darkness soothing. I felt lucky to experience the total lack of light pollution, to see a night sky that left me humbled.
It was surprising how quickly I fell under nature's restorative spell with the meditative routine of 'just being'.
Of course with the support of Naturhotell's attentive and nearly invisible staff, I was spared the chores of chopping wood, foraging for food and water-sourcing. It was hardly the pioneer experience. But it was an outdoor experience, and I loved every minute of executing one's daily routine in a totally different way.
I also loved getting a good dose of my favorite outdoor activity – hiking.
I explored well-marked trails through beech forests and past lakes and marshes. What I learned, or more precisely was reminded of, is how at one we humans are with nature and how precious that is. All too soon it was time to move on.
Original post here.
3. The ultimate lunch: tasting menu at Daniel Berlin Krog
There is always a simple beauty and elegance in nature. I contemplated driving to lunch at Daniel Berlin's unassuming Michelin-starred restaurant in Skåne-Tranås, about an hour away from my glamping site in Höör.
Read more: How to travel with friends: 5 tips for a really great time
Known for his care in the preparation of dishes from ingredients locally sourced (he fishes, hunts and grows for the restaurant), Berlin has the rare gift for enhancing nature's bounty.
I think I was more appreciative of dining there for having spent time in close touch with nature.
In the twelve-course tasting menu, each course is just a bite or two. This kind of menu requires well-coordinated service – not something that's easy to pull off gracefully. The staff were flawless and the service was impeccable.
Here are just some examples of what we enjoyed, with wines from France, Spain, and Italy paired with each course.
A broth of roasted corn was so exquisite I forgot to photograph it. But Imagine a liquefied ear of corn, unadorned, except for the complement of meadowsweet, a common European herb.
Rooster skin (if you're a fan of turkey/chicken 'crackle' this is a treat).
Eggs on top of eggs! Roe nestled in quail eggs.
A yeast pancake with plum set off the gamey-ness of the wild boar.
Next was a breather from the exotic with a simple homage to Daniel's early cooking inspiration, Lena Nilsson, a teacher from his high school days. It was a simple four-grain bread served with both goat butter and cow butter.
There was so much more, all finished with the perfect cup of coffee and dessert.
Afterward, guests were invited to amble around the grounds and explore Skåne-Tranås, a lovely small town with a picture-book churchyard.
Read more: Why Scandinavia should be on your bucket list
Jane Trombley is founder of 3 Score & More, a blog launched to inspire travel and discovery among curious women 60+. As part of the 'three score and more' demographic, she is no stranger to life's reset button. After careers in advertising, communication, and a very rewarding stint in adventure travel, she is following her heart and encouraging others to do the same. Jane is based in the Hudson Valley, New York, USA.