Here is a description from one of the works in the exhibition – "The works collapse mechanically reproduced 'reproductions' of painting with painting itself – enticing the viewer to disentangle one from the other. In this way, any prejudices concerning the relative status of these two modes of image-making are called into question." Either the author is on some substance that I've never partaken in or they just want to maintain the exclusivity of the art world to a tiny few. That's my take on it. I mean, it was school holidays for heaven's sake, imagine trying to explain that to your young ones when you haven't got a clue what it means either!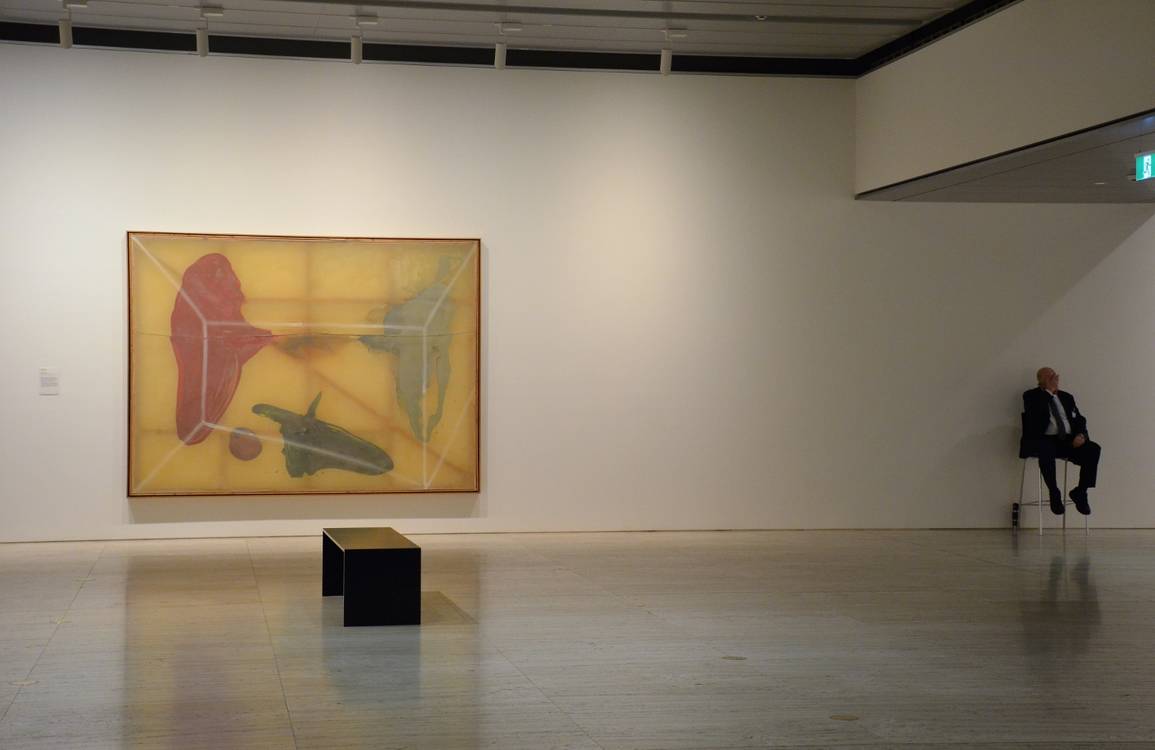 The whole lower floor was summed up for me by one of the attendants nodding off to sleep whilst sitting on a stool. The photographs that were on show were barely worth a side glance either, only marginally better than the absolute rubbish that they show at the Contemporary Art Museum at Circular Quay. There were a few works worthy of viewing such as Arlene Shechet and Dale Frank but, after that, I quickly repaired upstairs to the "normal" gallery, on the way passing by a recent sculptural acquisition called "The English Channel" by Michael Parekowhal, a Maori artist from, you guessed it.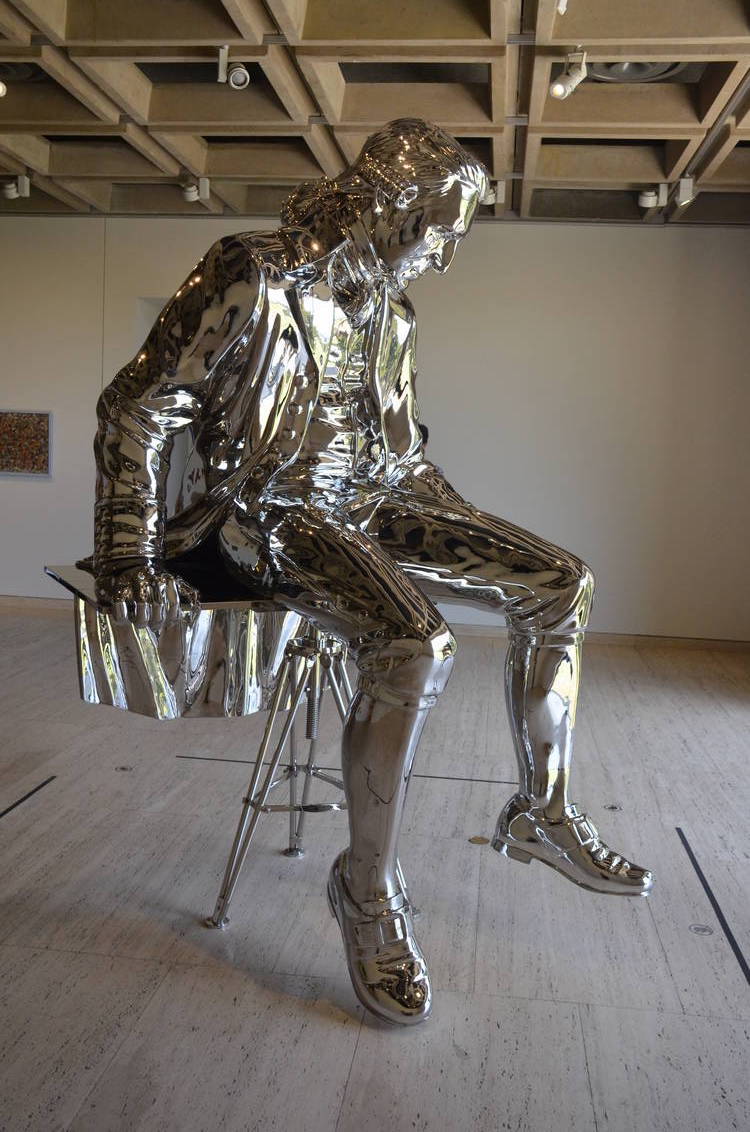 The work is arresting; it's a seated Captain Cook in flowing robes all done in dazzling chrome and you cannot ignore it. He's seated on a sculptor's working table with downcast gaze, seemingly contemplating something or other.
I could feel a sense of relief coming over me, washing over like the water from a cool mountain stream on a hot day as I entered the main showrooms. Here were works I understood as the classics of Tom Roberts, Frederick McCubbin and Rupert Bunny came into view. There's even a quality Picasso that looked positively normal after what I'd viewed downstairs.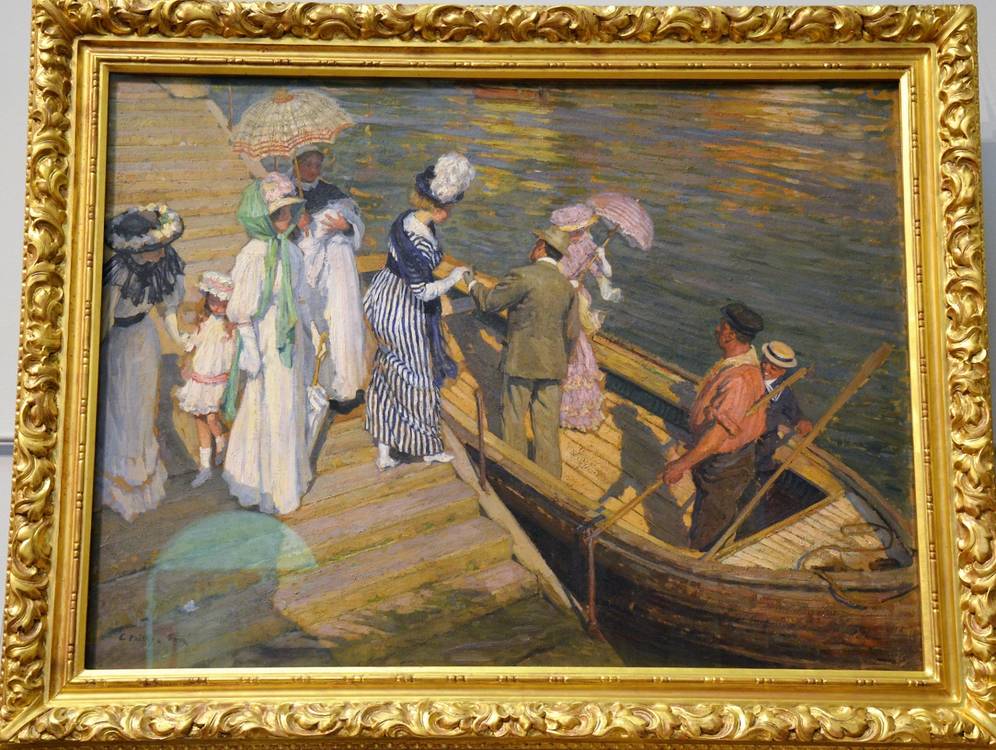 I glanced at Streeton's "Blue Mountains Tunnel", ever fascinated that some of the dirt from the blasting is actually stuck in the paint and I dallied over E Phillips Fox's excursion into France and his lauded work "The Ferry", painted at Trouville in the Modernist style. There are seven figures in the frame boarding a craft yet none are facing the painter. His wife, Ethel Carrick, has a fine work here also, that of pleasure seekers of St Malo, Brittany, just before WWI.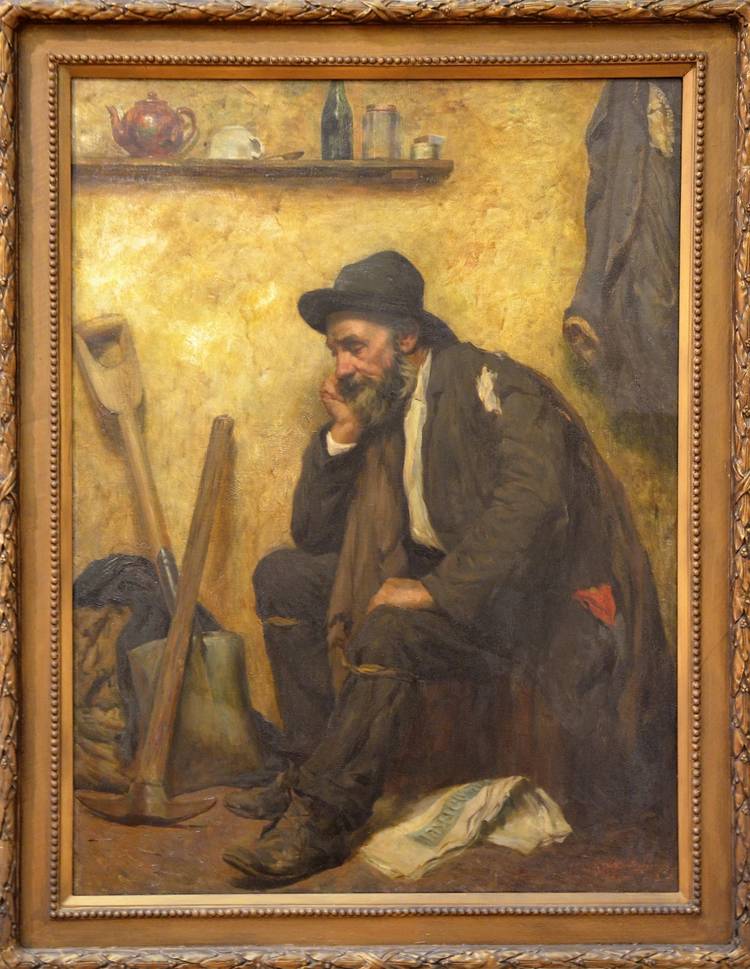 Roland Wakelin's "Syncromy in Orange Major"s similarity to the Cezanne at the other end of the room you couldn't help but notice and I was quite taken by Antonio Dattilo-Rubbo's work "The Strike's Aftermath" and David Davies "From a Distant Land", both of which reflect the loneliness of the 19th century with solitary seated figures resigned to their fate.
Eduoard Detaille's Vive L'Empereur, that enormous canvas of the charge of the 4th Hussars, beckoned me from another room though I resisted today but reflected that, when first on show, there were queues all the way out to the street just waiting to cast their eyes on this powerful vision. I had to leave, time being of the essence, but I stopped at WC Piguenit's "Flood of the Darling 1890" and admired the skill in depicting this significant event and the capture of the prevailing light between white fluffy clouds, cascading onto the still waters of the outback flood.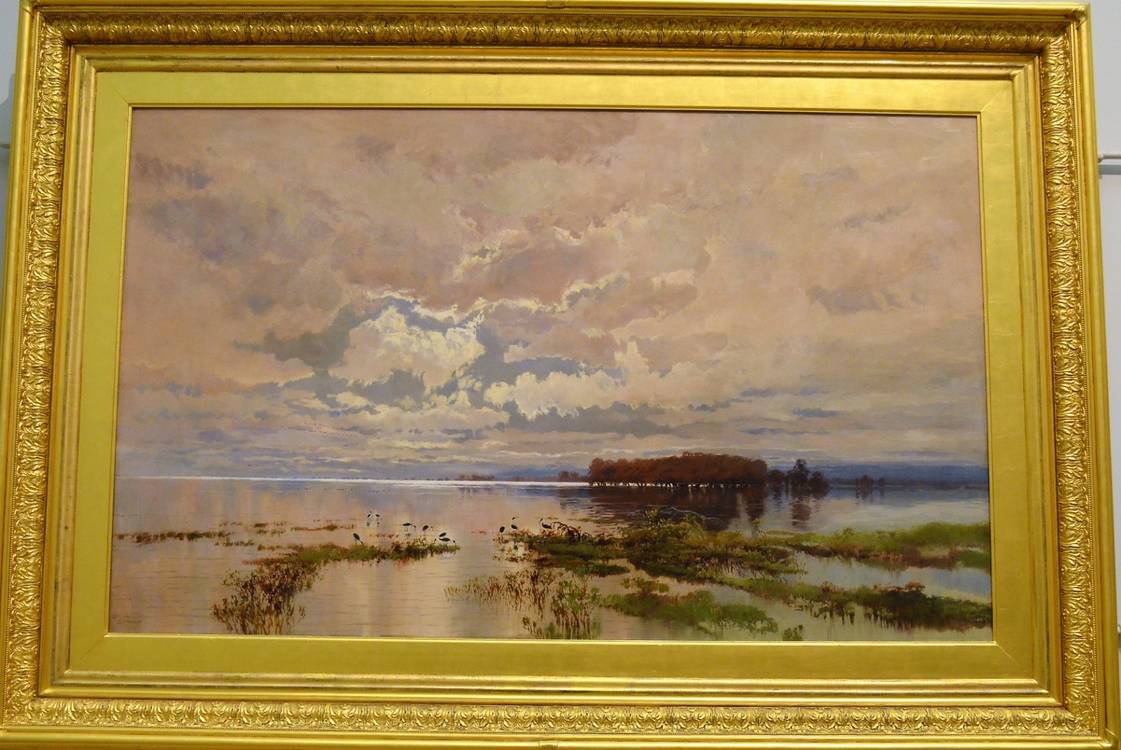 The heat outside was slowly increasing as I made a beeline for Dymocks, double-checking with my GPS for the shortest route, except that some of the way was blocked off because installations for the great New Year's bash were being removed.
Thus it was I found myself walking between buildings where I'd never trod before and a blast of cool air bade me turn my head and notice a doorway to a café, but, on closer inspection, it was actually one of the entrances into the Mitchell Library, a place I'd always wanted to have a peek into but never got around to. I deemed that now was the time and broached the doorway into the lovely cool premises. A nearby staircase indicated that there was a gallery upstairs. What the heck, I had a few minutes.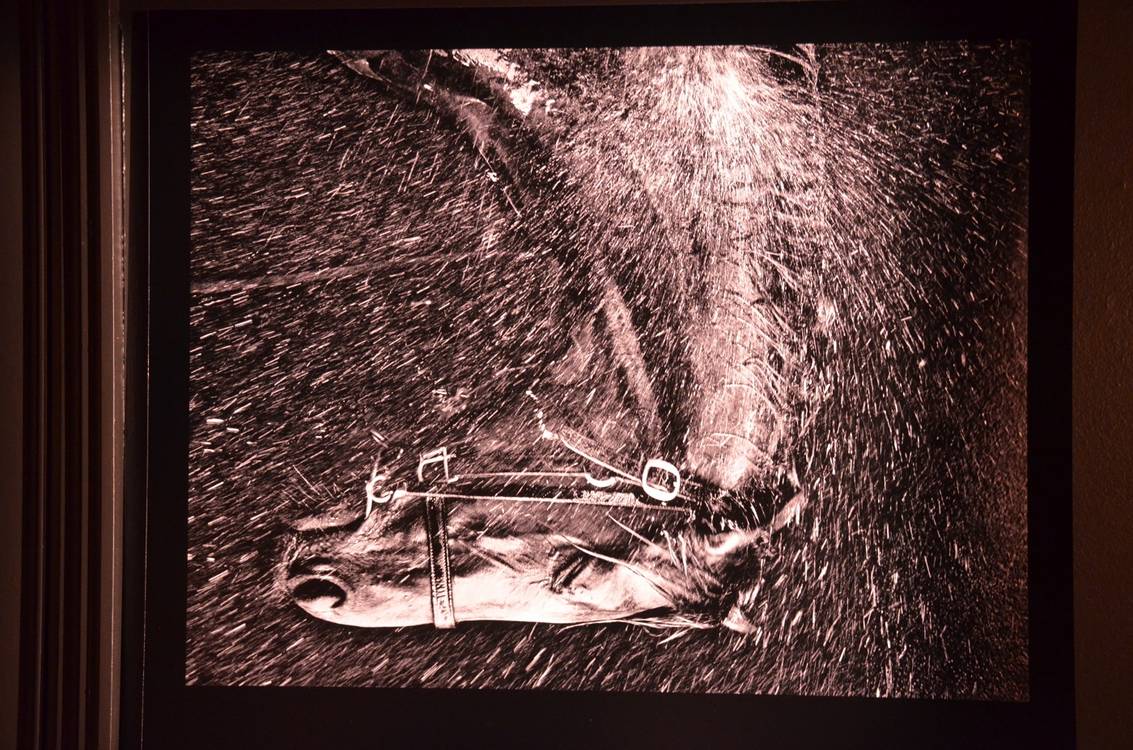 At the top I stumbled into a showing of the best of the Fairfax photographers. Nirvana at last! Here was art I could readily recognise without having to make excuses. It reeked of class and my only criticism was that there weren't enough of them.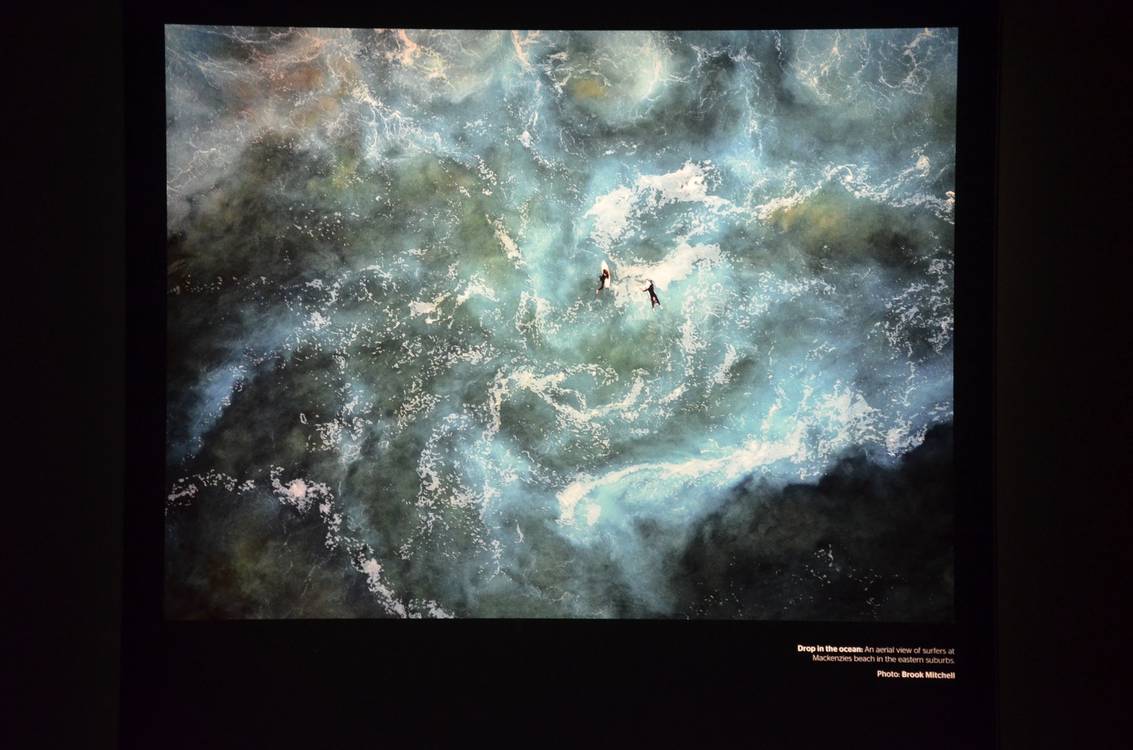 There was also another show of interest, that of Ferdinand Bauer, wonderful illustrator of the early 1800's. He travelled with Flinders when Australia was being mapped, among other interesting wanderings that he was involved in. Finally I felt satisfied and could head off to purchase some books feeling sated.