Explorer's Way: Magical swimming holes in Central Australia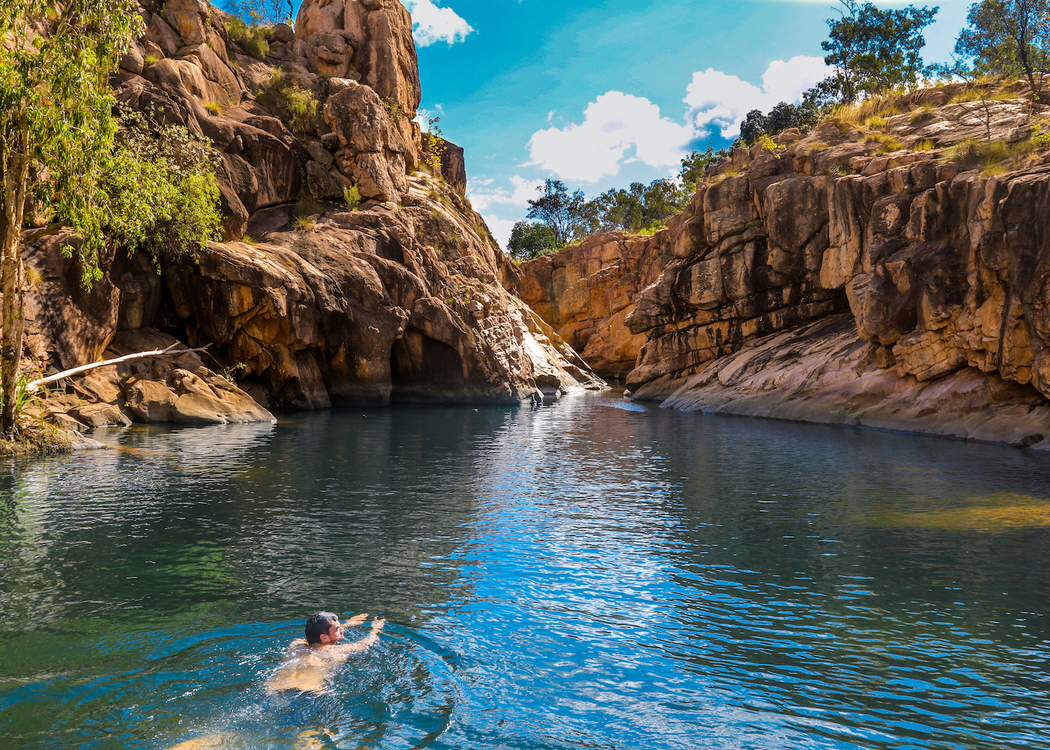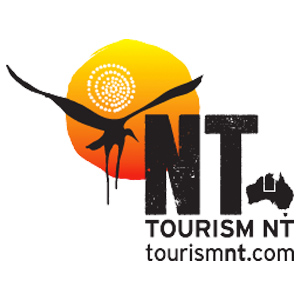 Tourism NT For more information on how you can enjoy the Explor's Way themed drive, follow the link below:
Learn More
Whether it's a hot spring, waterfalls or a natural pool, swimming holes have the power to pull a crowd. In Central Australia, not only are they a welcome respite from the hot outback sun, but they're some of the most magical spots you're likely to come across anywhere in the world.
Each of these stunning swimming spots can be found on the Explorer's Way route, which winds its way from Adelaide all the way up to Darwin, and they're well worth the stop if you want to make a splash on your trip through the region.
For more information on how you can enjoy the Explor's Way themed drive, visit northernterritory.com/things-to-do/self-drive-touring/explorers-way.
1.

Mataranka thermal pools, Elsey National Park
Mataranka is home to some of the most picturesque swimming holes in the area and the thermal pools have got to be some of the most stunning to splash about in. Surrounded by Mataranka palm trees that offer just enough shade from the hot sun, the waters are fed by the local spring and bubbles at a very pleasant 34 degrees Celsius. This thermal pool is open around the clock with free entry to the public, so bring your towel and get ready to relax. Even former Australian cricketer Matt Hayden is a fan. "It amazes me that something so magnificent is situated in the outback," the Aussie icon said after a recent trip with his family. "Break up your drive, take a break and a refreshing swim in this natural pool, surrounded by tall shady Mataranka palms. While the kids played in the turquoise water, Kellie and I recharged in the soothing warm temperature. It was absolutely sensational!"
2.

Ellery Creek Big Hole, West MacDonnell National Park
As the name suggests, Ellery Creek Big Hole is one big ol' waterhole that is surrounded by red cliffs and native trees. The site we see today is thanks to thousands of years of flooding waters that have carved the formation into the stone. Hiking and trekking spots are also close by, with the Dolomite walk and part of the Larapinta Trail walk just a hop, skip and a jump away.
3.

Ormiston Gorge, West MacDonnell National Park
It looks like the scene out of an outback oil painting, but Ormiston Gorge is, if you can believe it, even more impressive in person. About 130km west of Alice Springs, the gorge has a great water hole that is around 14m deep and safe for swimming. If you want to get your heart racing before jumping in, there's always the four-hour Ormiston Pound Walk, but if you'd prefer to take it easy, then the fauna and flora surrounding the gorge will catch your eye instead.
4.

Glen Helen Gorge, Glen Helen
It's not just other travellers you're likely to encounter at Glen Helen Gorge, but this water hole is popular with local wildlife, too. Keep an eye out for the recently rediscovered long-tailed dunnart and the central rock rat. But the truly spectacular sight here is the view of the West MacDonnell Ranges. If a day trip isn't enough, then stay a night or two at the local camping grounds, which includes barbeques and toilet and shower facilities, or at the famous Lodge nearby.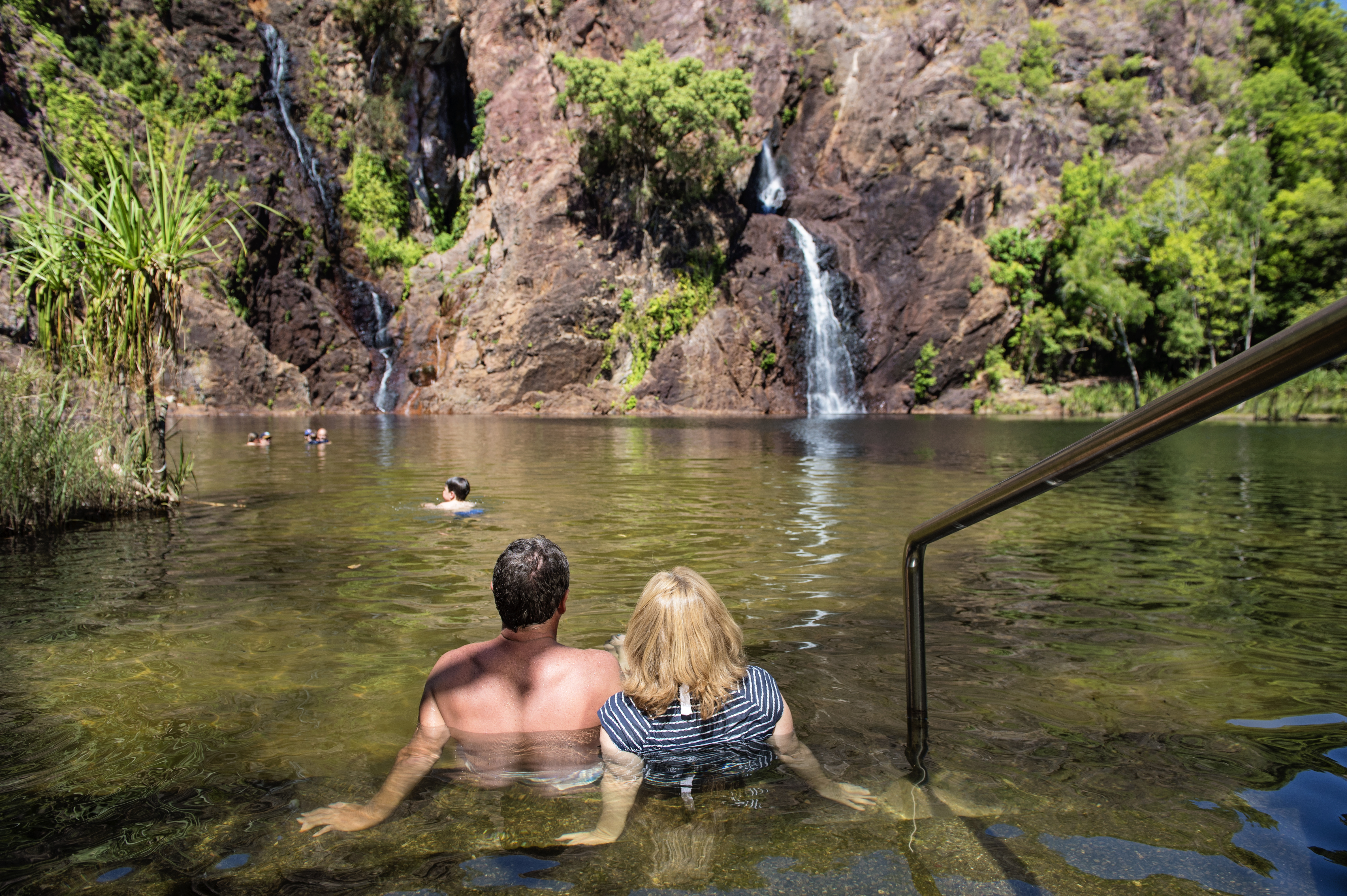 5.

Leliyn/Edith Falls, Nitmiluk National Park
Just a 60km drive from Katherine, Leliyn/Edith Falls is found in Nitmiluk National Park. Located at the end of the Jatbula Trail, it's a popular swimming hole for hikers wanting to cool off after their walk. But you don't have to tackle the hike, you could just head along for a lazy afternoon swim instead.
6.

Umbrawarra Gorge, Umbrawarra Gorge Nature Park
The rock formations that surround Umbrawarra Gorge make it a water hole with a difference. The jagged edges and orange hues contrast with the bright blue sky above, creating a postcard-perfect setting. The drive is approximately 90km from Katherine and is only accessible in the dry season.
7.

Wangi Falls, Litchfield National Park
Wangi Falls is one of the most popular attractions in Litchfield National Park and for good reason – it's the natural beautiful that keeps people coming! While you're here, take a stroll along the Wangi Falls Walk, which begins at the plunge pool and winds its way through a moderate track with a few steep inclines, to the top of the falls. Here you can find a great spot to take some photos or simply soak up the surrounds. There is also a handrail at the entry of the pools, making it particularly easy to get in and out of the water.
8. Buley Rockhole, Litchfield National Park
After you've spent the day exploring Litchfield National Park and have gotten acquainted with the local wildlife, then the waterfalls and rock pools found at Buley Rockhole will be a welcomed treat. Here you'll find a series of swimming spots that are available all year round. And, great news, camp sites are available in the area with toilet facilities, too.
9. Florence Falls, Litchfield National Park
You're not seeing double, Florence Falls in Litchfield National Park is a pair of waterfalls that flows into a swimming hole below. There's quite the view to behold here, with a lookout point available at the top. To reach the swimming area below, there are a fair few steps, but if you're feeling up to the challenge, the pool with a view is well-worth the effort.
10.

The Cascades, Litchfield National Park
It's important to note that extreme care should be taken while swimming in the Northern Territory as this is crocodile country. Look out for the safe to swim signs before jumping in and click here for more information about how to stay crocwise.
Follow the journey of Matt Hayden and his family at northernterritory.com/TheHaydenWay.
For more information on how you can enjoy the Explor's Way themed drive, visit northernterritory.com/things-to-do/self-drive-touring/explorers-way.