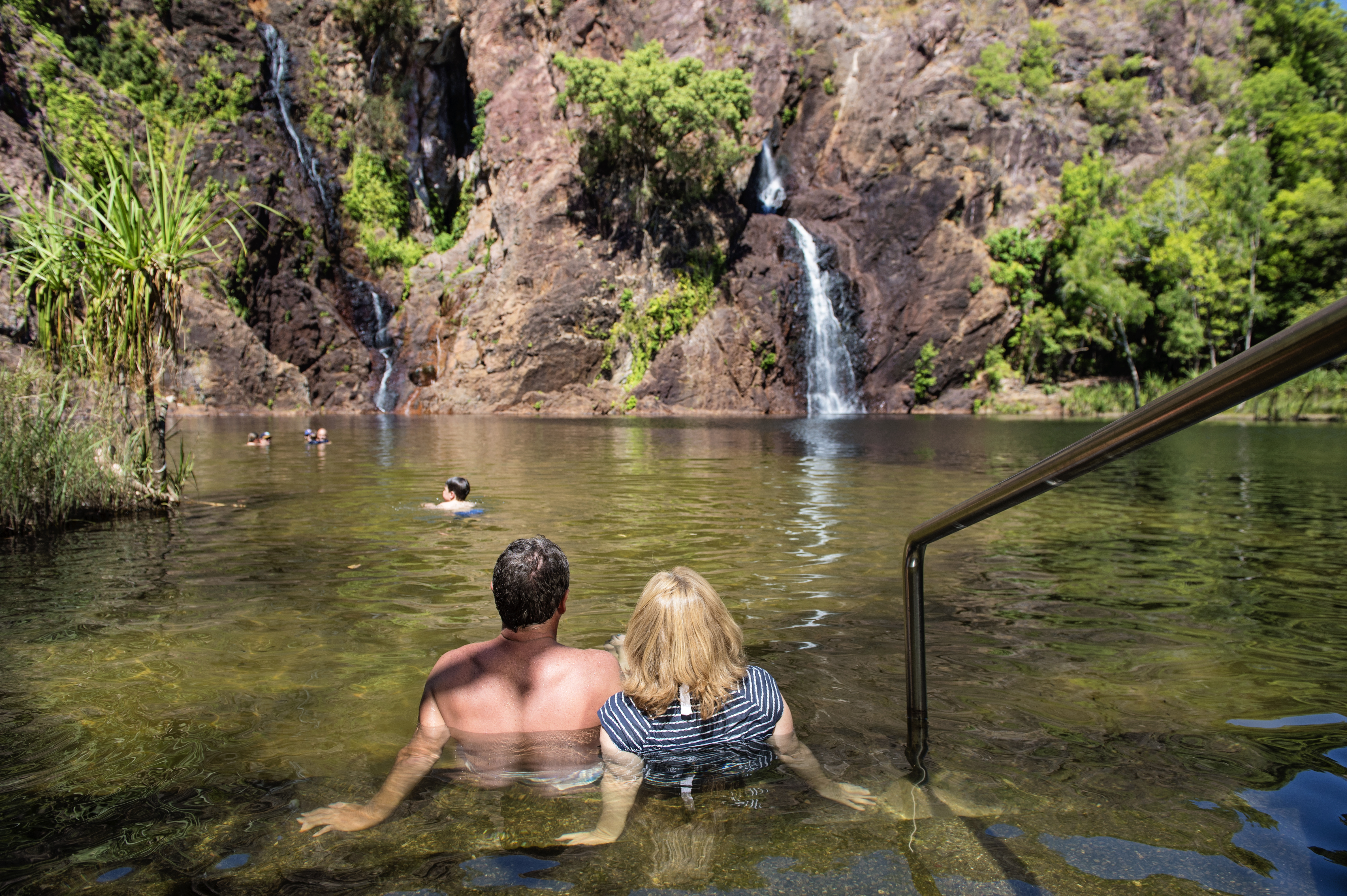 5. Leliyn/Edith Falls, Nitmiluk National Park
Just a 60km drive from Katherine, Leliyn/Edith Falls is found in Nitmiluk National Park. Located at the end of the Jatbula Trail, it's a popular swimming hole for hikers wanting to cool off after their walk. But you don't have to tackle the hike, you could just head along for a lazy afternoon swim instead.
6. Umbrawarra Gorge, Umbrawarra Gorge Nature Park
The rock formations that surround Umbrawarra Gorge make it a water hole with a difference. The jagged edges and orange hues contrast with the bright blue sky above, creating a postcard-perfect setting. The drive is approximately 90km from Katherine and is only accessible in the dry season. 
7. Wangi Falls, Litchfield National Park
Wangi Falls is one of the most popular attractions in Litchfield National Park and for good reason – it's the natural beautiful that keeps people coming! While you're here, take a stroll along the Wangi Falls Walk, which begins at the plunge pool and winds its way through a moderate track with a few steep inclines, to the top of the falls. Here you can find a great spot to take some photos or simply soak up the surrounds. There is also a handrail at the entry of the pools, making it particularly easy to get in and out of the water. 
8. Buley Rockhole, Litchfield National Park
After you've spent the day exploring Litchfield National Park and have gotten acquainted with the local wildlife, then the waterfalls and rock pools found at Buley Rockhole will be a welcomed treat. Here you'll find a series of swimming spots that are available all year round. And, great news, camp sites are available in the area with toilet facilities, too.  
9. Florence Falls, Litchfield National Park
You're not seeing double, Florence Falls in Litchfield National Park is a pair of waterfalls that flows into a swimming hole below. There's quite the view to behold here, with a lookout point available at the top. To reach the swimming area below, there are a fair few steps, but if you're feeling up to the challenge, the pool with a view is well-worth the effort.
10. The Cascades, Litchfield National Park 
It's important to note that extreme care should be taken while swimming in the Northern Territory as this is crocodile country. Look out for the safe to swim signs before jumping in and click here for more information about how to stay crocwise.